Meet Starmount, South Blvd's Diamond in the Rough!
So there's no nice way to say it, homes near South End are ridiculously expensive now! Dilworth has been expensive for the past 20 years or so. Sedgefield is the "next" Dilworth but 5 or 6 years ago you could find a decent home there for $300K or so. No longer! Lot's in Sedgefield go in the $400Ks these days!! Hell, the rent isn't affordable in South End either, so don't feel left out renters.
When I was growing up, if I told my parents I was going to South Blvd, there first question would be… Why?! Obviously the entire area has changed, it's one of the fastest growing areas in Charlotte, with rents and home prices responding accordingly.
So what's the intrepid first time home buyer to do? If you're like me, you wanted to live close into the city — ideally not in a wreck, and in an area that's almost guaranteed to appreciate well. The answer, perhaps, is Starmount! Starmount is the last of the South Blvd neighborhoods on the Blue Line that is affordable for most first time buyers.
Several years ago Starmount was one of the fastest appreciating neighborhoods in the greater Charlotte area! Not much has changed, Starmount has appreciated at 11% over the past year compared to under 5% for the rest of the MLS (all the homes in the Greater Charlotte Metro)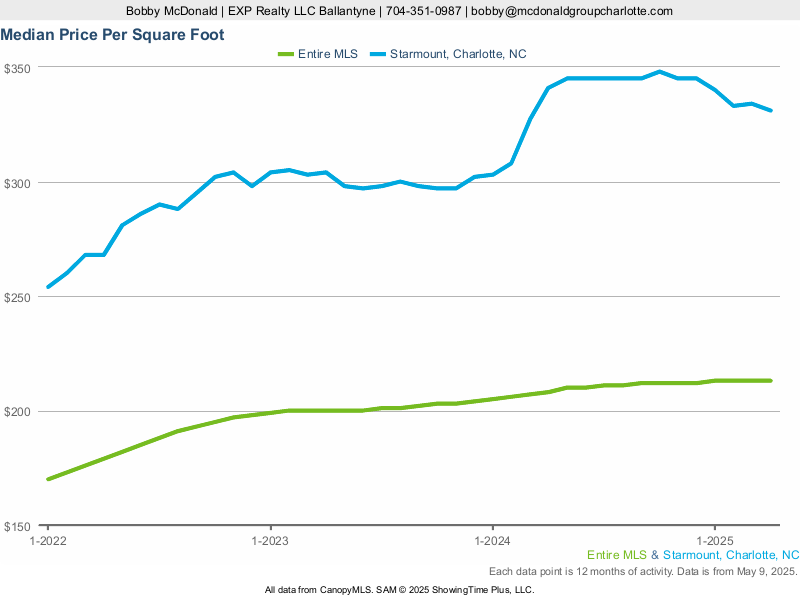 Ok, so Starmount is appreciating nicely — does that mean you're just buying when the homes have already gone up? Not quite! The trick here is to watch the redevelopment along South Blvd. It hasn't really reached Starmount yet. Don't get me wrong, there's a new gas station or two but they aren't building $100M dollar developments along there light rail there… yet. The big, commercial redevelopment is currently at Scaleybark (think OMB) with a 15-acre mixed use development announced at the beginning of the year. Think office space, shopping, dining, a hotel, apartments, etc. They're going to call it LoSo — I have some misgivings about the name haha, but the renderings look awesome.
Why does this help Starmount? If you look at the redevelopment of South Blvd it has been happening from South End out and the Scaleybark stop is only a few stops down from Starmount. The trick, at least in Charlotte, to buying quickly appreciating property is to buy next to the nicest areas in town and wait for the development to come to you. If you're planning on staying in your home for the next 3 – 7 years and want to be along South Blvd, you want to take a good hard look at Starmount!
Already live in Starmount and wonder what your home's worth or just want a look at recent sales? Here's what's been going on over the last month:
Related Links